Quick version: Dam Native band will be playing the support shows of Leigh Sawmill Friday 3rd February, and Kings Arms The Thirsty Dog (K rd) Sunday 5th.
Press release from the promoter:
THE RED EYES
NZ HOMECOMING TOUR
JAN / FEB 2012
NEW SINGLE >> Circles <<
The Red Eyes, Australia's much loved Dub/Reggae monster group, celebrate their 10th birthday in 2012 with their first NZ Tour, kicking off at Revolver, Queenstown on Jan 26, before taking in venues in Dunedin, Wellington, Leigh, Hamilton and Auckland. They will also appear at the inaugural festival Winchfest on Jan 28 performing alongside Katchafire and Cornerstone Roots.
The Red Eyes 'NZ Homecoming Tour' heralds the prodigal return of NZ's long lost sons El Witeri and Damien Charles. Born and bred in Auckland, the two musicians' musical roots were developed touring around NZ throughout the 90's before they re-met in OZ and honed their alternative Dub/Reggae style for an appreciative Australian audience. Over 10 years their fan base has grown exponentially, seeing them play major festivals throughout the pacific and Australia including the 2011 Australian Raggamuffin tour with Jimmy Cliff and Mary J Blige.
Established in 2002 The Red Eyes' successful 2nd album 'Red Army' was a finalist for Best Blues and Roots Album at the Australian Independent Record Label Awards and lead singer El Witeri was a finalist for APRA songwriter of the year. 2007 release 'Rudeworld' and their two EP's 'Highplace' and Prolific/My Kingdom' have collectively sold over 12,000 copies worldwide.
Exploding onto the NZ turf with a string of club dates through Jan and Feb 2012, The Red Eyes are touring their new track Circles, the first single release from their anticipated third album.
Mixed at the Andy Baldwin Studio in Brooklyn, 'Circles' took The Red Eyes producer King Charlie to the US to make the most of the strong Aussie dollar and NY talent with the production of their new single.
The lyrics allude to the relentless touring and winding road that is a musician's life, where artists are increasingly at the bottom of the recording industry food chain.
For independent bands like The Red Eyes, creating a path outside the mainstream label structure has become more of a reality, particularly with the explosion of social media driven opportunities to reach new audiences.
It may be 'a winding road… full of hoops and loops and circles', but The Red Eyes are proving that there will be no stopping them.
NZ Tour Dates
Thu 26 Jan: Mint, Wanaka
With guest DJ Damon (The Nomad) DJ Set
Fri 27 Jan: XIIB/12 Below, Dunedin
With guests Skull Dubbery and DJ Jungle Far I
Sat 28 Jan: Bodega Wellington
With guests Newtown Sound feat Israel Starr
Sun 29 Jan: Winchfest, Oakura, New Plymouth
Also feat. Katchafire and Cornerstone Roots
Fri 3 Feb: Sawmill Cafe, Leigh
With Dam Native and DJ Dubhead (TBC)
Sat 4 Feb: Flow Bar, Hamilton
With guest DJ Captain Nemo
Sun 5 Feb: Kings Arms The Thirsty Dog (K rd), Auckland
With Dam Native and DJ Dubhead
Ticketing: www.eventfinder.co.nz
www.facebook.com/themightyredeyes
www.soundcloud.com/the-red-eyes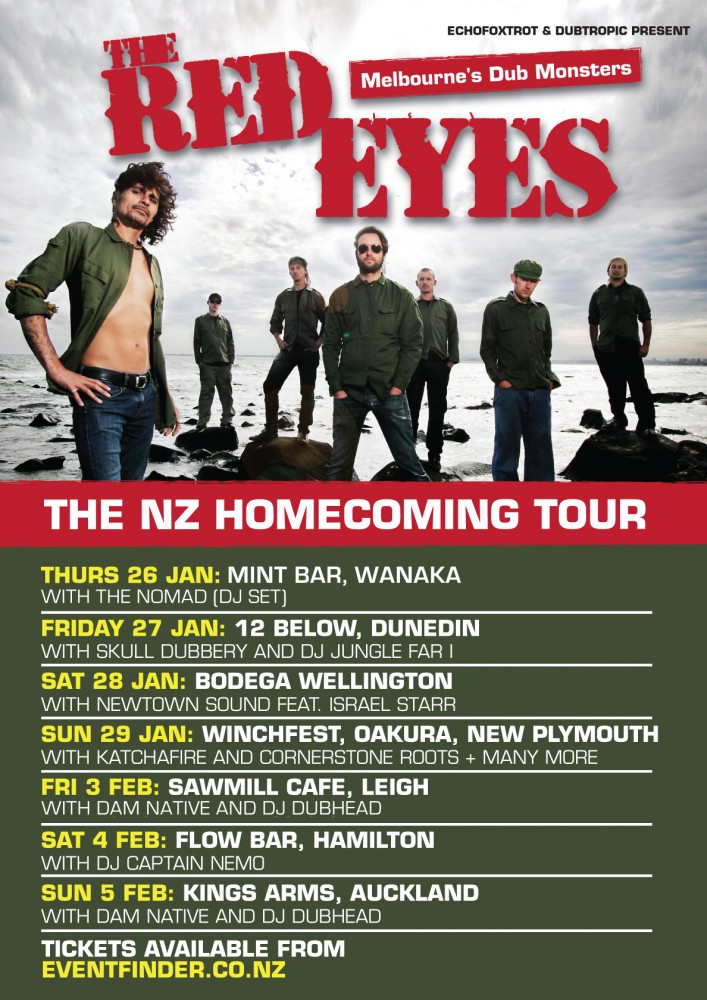 A print quality PDF file version of the poster artwork is available for printing.